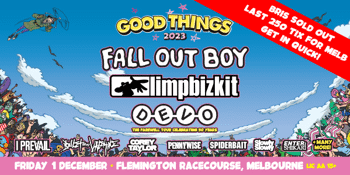 Destroy All Lines presents
Good Things Festival 2023 - Melbourne
Flemington Racecourse (Flemington, VIC)
Friday, 1 December 2023 12:00 pm
We interrupt your regular viewing to announce that
Good Things
season is upon us - and if you thought 2022 was huge, that's not all folks!
Australia's largest and favourite travelling music festival,
Good Things
, returns this December with a bumper line-up set to descend on the east coast, bringing a horde of new and iconic faves from Australia and around the globe together for nothing but a good time.
Leading the charge are American rock idols
Fall Out Boy
, Florida heavies
Limp Bizkit
, and none other than
Devo
, making a stop on their Farewell Tour Celebrating 50 Years.
This is one for the record books friends, don't miss out!

Accessible Tickets - GTF will be an accessible friendly event as much as we can possibly make it. There will be accessible viewing areas where possible at each stage area for those in wheelchairs or having similar significant mobility restrictions . Disabled toilets are available around the site. We suggest that you are accompanied by a friend as with all major events navigating through the crowds can be difficult and we recommend that you stay clear of the mosh pits. As long as you plan your day and leave a bit of extra time to move between stages there is absolutely no reason why you should not have a great day and be able to see the bands you love. When buying your ticket, please click the accessible ticket link so we can understand the numbers coming to the event. Please note, accessible tickets are not for the general public. If you are unsure, please contact info@oztix.com.au.

Companion Cards - We understand that some people have a need for a full time carer. Good Things Festival will allow a valid ticket holder one free entry ticket for their legitimate carer. Please e-mail info@oztix.com.au with your Carer and current Carers Card or written proof of your Carer status as a Carer and we will issue you one free ticket.
Fall Out Boy
Limp Bizkit
Devo (The Farewell Tour Celebrating 50 Years)
I Prevail | Bullet For My Valentine | Corey Taylor | Pennywise | Spiderbait | Slowly Slowly | Enter Shikari | Behemoth | Sepultura | Taking Back Sunday | PVRIS
In Alphabetical Order:
Bloom | Boom Crash Opera | Eskimo Joe | Frenzal Rhomb | Hanabie | Jebediah | Luca Brasi | Magnolia Park | Make Them Suffer | Ocean Sleeper | Royal & The Serpent | Short Stack | Slaughter To Prevail | Stand Atlantic | Tapestry | The Plot In You | While She Sleeps